Raised in Denver in the 1960s and 70s, then returning following his graduation from Creighton University School of Dentistry in Omaha, Nebraska, Dan is practically a Denver native. At the age of three, he and his family relocated from Portland to south Denver where his father, an allergist, started his own practice. Upon completing dental school, Dan started a practice of his own, which he successfully managed and grew for seven years. By the late 90s, he was eager to accept an offer to merge with the practice of Drs. John Bassett and Gerry Wallace, two local, well respected leaders in the dental community. Dan became a full partner with Drs. Bassett and Wallace in January of 1998 and worked with them for 16 years before their retirement.
Today, Dan works to carry on the legacy of Drs. Bassett and Wallace. In addition to maintaining the highest standards of dentistry and oral care, he strives to exceed patients' expectations daily.
Dan is very active professionally outside the practice. He is a past-President of the Colorado Prosthodontic Society and is currently the chairman of the Colorado Dental Association Peer Review committee. Dan has conducted seminars for hundreds of dentists in the United States and the United Kingdom on the topic of Occlusion and TMJ disorders. Nationally, Dan is a member of the American Equilibration Society and the Academy of Osseointegration, the leading organization involved with dental implants. His accomplishments and contributions to dentistry have been recognized by his selection for induction into the International College of Dentists.
When Dan isn't working, he can usually be found with one or more of his kids in a stream with a fly rod, on an ice rink with a hockey stick or hard at play in some other sporting event. His love of hockey and dentistry has come to fruition as the team dentist for the Colorado Avalanche since 2012. Dan and his wife, Carol, live in southeast Denver and have three children: Hannah, Emma, and Patrick.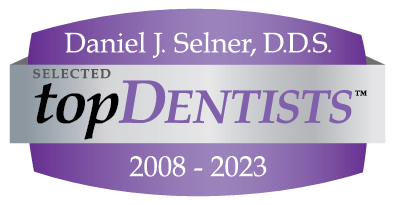 ---
I have been a patient of Dr. Selner's for 10 years and there is absolutely no one else I would trust with my dental care. This past appointment Tera was my dental assistant and I have also known her for 10 years. She and Dr. Selner are a great team and both make sure I am comfortable throughout whatever procedure I am having. Tera designed my new crown and I love it. It is much more aesthetically pleasing than my real tooth – in shape and in color. While I don't love going to the dentist any more than the next person, Dr. Selner, Tera and my hygienist Christel truly make seeing them a personable and comfortable experience. The receptionists are amazing too!!! I feel so fortunate to have found this group when I first moved to Denver 10 years ago. I now drive down from my mountain home to see them and will continue to do so forever.
---
Dr. Selner is the most humble, down-to-earth dentist I have ever met. He will treat you with kindness from the bottom of his heart. Wonderful practice!
---
This is an extraordinary group of dentists and their support personnel. I had no idea I would have so much trouble with my teeth in later years, but Dr. Selner and his assistants are doing everything they possibly can to help me hold on to my teeth in spite of so many bad habits that I developed in earlier years. He has an uncanny ability to see problems down the road and give options for treatment. His referrals for other types of dentistry are always excellent.
---
I am pretty sure you saved my life! I was in very bad shape when I arrived. Dr. Selner and his team were so kind and understanding. Dr. Selner gathered the right team of specialists quickly. I was quickly on the road to recovery.
---
The office is clean and welcoming. The front office staff are friendly and efficient. The dental assistants are friendly and competent. Dr. Selner is very thorough, informative and treats his patients like family.
---